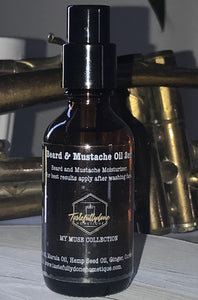 Formulated to keep your beard and mustache soft and touchable. With Organic Moringa oil, Marula Oil and Hemp Seed Oil, those wiry hairs will feel soft and silky and your skin underneath will feel soothed and moisturized. Gently scented with rejuvenating Ginger, Coriander, and Frankincense essential oils.
For best results apply after washing face. Use a small portion, two pumps to lightly cover hair and gently massage into beard, mustache and skin. Pro tip: use a more generous amount before bed to help keep skin moisturized and to wake with an exceptionally soft beard and mustache.
Ingredients:
Organic Castor Oil, Organic Moringa Oil, Marula Oil, Frankincense Essential Oil, Organic Hemp Oil, Ginger Essential Oil, Coriander Essential Oil.