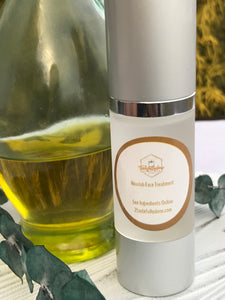 Nourish Face Treatment exfoliating gel masque is loaded with enzyme rich Papaya and Pineapple that offer gentle sloughing and smoothing properties. Nourish clears dirt, toxins and balances oil production naturally. It is created to cleanse, repair and protect the skin with light regenerating moisture. Nourish is all about respecting nature and respecting your skin.  
The Nourishing ingredients in this gel mask are Organic Aloe Leaf Juice,  Organic Pineapple Fruit Extract, Organic Papaya Fruit Extract, Organic Papaya Leaf Extract, Organic Alcohol.
How to use: This masque is suitable for all skin types.  Always test product on small area before use on entire face. Apply a thin layer to cleansed skin, avoiding eyes and lips. Rinse off after 15 minutes. Light tingling will occur. If skin becomes irritated, wash off immediately with warm water.